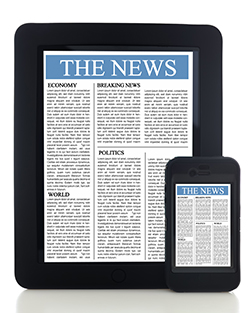 This month, the FCC has proposed rules that will result in better wireless call routing and faster response times during emergencies in the United States. Nokia's 5G solutions will support four automated train lines that link 200 kilometers of Paris. Sophos' Intercept X endpoint security detected and stopped real-world cyberattacks with 100 percent accuracy. This is just a small sample of our top headlines as we enter 2023.
The top telecom industry news stories from the month are summarized below. To view all the news as it breaks, check out Pipeline's News Center or subscribe to receive our telecom industry news summary.
Innovation news
This month has given us a lot of positive stories showing examples that technology has significantly benefited both humanity and the environment. Ericsson has established a Green Financing Framework to enable the company to issue green bonds and other green financing instruments. It is designed to enable the financing of investments in energy-efficient technologies, such as 4G, 5G, future 6G, and renewable energy.
Orange has taken steps across its European footprint to reduce its energy consumption over the coming months. The Orange Group is confirming its commitment to supporting efforts to reduce stress on energy networks across Europe.
Rural areas in the U.S. struggle to provide residents with broadband Internet access and the computers needed to maximize the benefits of online educational and economic resources. Digitunity has released a commissioned report on the potential causes and solutions to the rural digital divide.
Vodafone Foundation's Zachranka app is helping people in the Czech Republic, Hungary, Slovakia and Austria connect directly to emergency services and is using location tracking to speed up how quickly they are found. Vodafone has also zero-rated more than 770 institutions and over 1,400 URLs in South Africa, including government institutions such as the National Department of Health, National Department of Home Affairs and the National Department of Education.
Nokia and Etisalat UAE, branded as e&, have demonstrated the fastest passive optical network (PON) speed in the Middle East and Africa region. In the trial, Nokia Bell Lab's PON proof of concept achieved speeds up to 100 gigabits per second (Gb/s) on a single wavelength, four times faster than the most advanced networks available today.
T-Mobile announced it will provide connectivity for VinFast's electric vehicles in North America and Europe. These vehicles will come with built-in capabilities that power connected services such as remote vehicle services, streaming media and gaming on-the-go.
Market news
There's been more market movement as 2022 came to a close. Hexatronic US signed a 4-year Strategic Partner agreement with Montana's Grizzly Broadband while Xtel Communications has acquired Global Telecom. With this acquisition, Xtel can enable businesses across this key market with secure, smart telecommunications and cloud solutions that are agile and adaptable to today's evolving workforce and landscape.
Wireless Telecom Group announced it entered into a definitive agreement to sell its radio, baseband and software segment, CommAgility LTD., to global space company, E-Space. The purchase price is $14.5 million, inclusive of $13.75 million in cash consideration and a $750,000 note payable, subject to agreed-upon reductions.
The announced partnership between TECNO and Google will bring an optimized user experience for TECNO smartphones, where TECNO mobile devices will be at the forefront of delivering the latest Android updates, as well as power more seamless cross-device experiences.
Results of Nokia and GlobalData market research show a high level of confidence in private wireless and industrial edge, particularly in integrated solutions to achieve enterprise cybersecurity, cost, efficiency, and sustainability goals.Two giants collide as Ericsson and Apple reached a multi-year, global patent license agreement. The agreement includes a cross-license relating to patented cellular standard-essential technologies and grants certain other patent rights.