Bend or Break? Billing for B2B IoT



By attending this webinar you'll hear from Numerex and LogiSense on the new demands IoT will place on pricing and billing, including:
Required agility necessary to manage the nuances of IoT business models
What end-to-end solutions mean to your company and why they matter
The impact of convergence on your offerings
True impact of "cost of ownership"

Speakers:
Steven Baker
VP Product Management
Numerex

Flavio Gomes
CEO
LogiSense

Ricky Gill
Product Manager
LogiSense

View Now
---
Leveraging a Multi-Partner Model to Achieve Great Customer Experience

CEM in Multi-Partner Environments

By attending this webinar you'll hear from ViaSat and COMARCH on how to achieve great customer experience management in multi-partner environments, including:
How to define Customer Experience in the telecom industry
The tools and methods to improve service quality
The elements service providers should outsource and which should they should not
The tools that service providers can leverage to manage many partners and subcontractors in large areas
The customer responsibility in the service delivery chain

Speakers:
Brian Crouthers
Director of Field Operations
ViaSat Communications

Robert Hess
Field Operations Manager of Systems and Support
ViaSat Communications

Szymon Uczciwek
Consulting Dept. Manager (Field Service Management)
COMARCH

View Now
---

A Realtime OSS-based SDN Approach


A Realtime OSS-based SDN Approach

In this dynamic webinar you'll hear from Axel Clauberg, who is responsible for Deutsche Telekom's IP Architecture and Designs for fixed and mobile networks. Mr. Clauberg is an outspoken advocate for the standardization of real-time OSS, and will reveal critical information for Network Equipment Providers, Service Providers and Systems Integrators. This webinar will demonstrate the importance of leveraging IETF standards of NETCONF and YANG, which can provide enormous cost savings, innovation benefits and vendor flexibility for Service Providers.

Speakers:
Axel Clauberg
VP, Aggregation, Transport, IP (CTO-ATI) & Fixed Access (CTO-FIA)
Deutsche Telekom

Håkan Millroth
CTO
Tail-f Systems
View Now
---
Operational Intelligence for superior Customer Experience in All-IP networks


Leverage real-time operational intelligence and deliver excellent Customer Experience in all-IP communications networks

Increasing numbers of Service Providers are moving to IP communications to improve productivity and workforce mobility, streamline infrastructure, and reduce operational expenses.

The new IP-based communications networks present different challenges than traditional circuit-switched voice networks to guarantee high quality of service and deliver superior customer experience.

Join this free webinar from Oracle Acme Packet and Pipeline and learn how to:
Quickly identify customer issues by effectively monitoring your IP networks
Rapidly respond to poor service experience by proactively reaching out to your customers
Efficiently deliver superior services by optimizing your IP networks
Speakers:
Andrea Canessa – Director, Solutions Marketing, Oracle Communications
Renuka Prasad – Product Management Director, Oracle Acme Packet
View Now
---

Assuring Service Performance in Your Software-Defined World


Enterprises, service providers, and government agencies are all moving to virtual data centers, or cloud architectures, or the new Software Defined Data Center (SDDC), to obtain the well-documented benefits of agility, efficiency, and cost control. But the move to these dynamic, software-defined architectures is creating new challenges for the management teams who are responsible for ensuring service availability and performance to the business. During this webcast, you will hear Rick Walsworth, EMC's SDDC Product Director, and Tom Hayes, EMC Service Assurance Product Director, discuss the challenges and approaches to managing these new IT environments.
View Now
---



Fraud Management for Next Generation Networks

Telecommunications fraud is a significant concern for communications service providers. It robs carriers of revenues, consumes valuable network resources without remuneration, and leads to customer disputes and churn. A 2011 Communications Fraud Control Association (CFCA) survey estimates global telecommunications fraud loss at $40.1 Billion (USD) or nearly 2% of worldwide telecom revenues.

With the advent of VoIP-based next generation networks, communications service providers and large enterprises are vulnerable to a wide array of increasingly sophisticated attacks. While dealing with the risk of fraud can be daunting, new tools for protecting from and preventing fraud are emerging that offer large operators the ability to protect themselves, protect their customers, and offer differentiate themselves from their competition.

VIEW NOW
---
Transforming the Telecommunications Enterprise through Agility
Speaker: Charles Rivet, Industry Offering Manager for Telecommunications, IBM

In this webcast you will learn how IBM Rational addresses this balancing of business and IT strategies, through an agile collaborative platform which contains key telecommunications industry standards from the Telemanagement Forum (TM Forum) that CSPs can use to plan, optimize, and integrate key operation and business support systems (OSS/BSS) in order to meet the demand of next generation networks.

VIEW NOW
---
Big Opportunities from Big Data
Speakers:
Monica Ricci, Director, Product Marketing, CSG International
Jennifer Fellows, Vice President of Product Management, CSG International
Dan Smith, Chief Architect, Quaero

Communications Service Provider strategies for managing the business side of Big Data will include new approaches to intelligent transaction processing, operations and automation, and actionable customer analytics. This webinar discusses the CSP evolution and explores recent case studies to provide a glimpse into the Big Data future.

VIEW NOW
---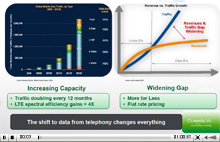 Monetizing 4G Services: Telecom Operator Survey Analysis
Speakers: Greg Coogan, Senior Marketing Manager (Convergys), Tony Jackson, Director, Telecoms Solution Strategy (Convergys)

How will you monetize your 4G network?

This webinar will present the results of an exclusive new survey of Telecom operator plans for turning 4G's promise into long-term and sustainable profits. You will learn what's occurring in the industry and key steps to take to mitigate risks and create revenue.

VIEW NOW
---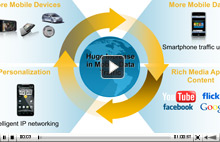 The Business Case for Policy and Charging Controls
Speakers: Ed Finegold (Pipeline), Cameron Dunne (Openet), Dennis Fiore (Cisco Systems)

This webinar examines how operators can optimize network resource utilization whilst generate new revenue streams and a highly personalized experience by using Policy and Charging Controls.
VIEW NOW