Those that advanced to the Finalist stage of the competition, included some of the most notable industry innovators, all of which are advancing the industry with cutting-edge technology.
The 2019 judging panel included key executives from CenturyLink, MTN, Telenor, Telstra, WOW! and the principal analyst from ICT Intuition. The
Pipeline
Innovation Awards judges participate each year to stay abreast of the latest technical innovations, and even routinely buy the products entered by the contestants. This year, the judges had their work cut out for them: only a fraction of a point separated a finalist from the next semi-finalist, and one vote separated the winner from the runner-up in several categories.
This year's Finalists included some of the most notable industry innovators, all of which are advancing the industry and technology, ultimately changing the way we connect as a global society.
2019

Pipeline

Innovation Awards Finalists




CloudSmartz

Comarch

ETIYA

Inflect
Intersec
Intraway
LightRiver
Netcracker Technology
PacketFabric
Radisys
Synchronosss
Sigma Systems
Unitas Global


Ziotis


Table 1 - The 2019 Pipeline Innovation Awards Finalists.

The competition was especially fierce within each of the categories of the 2019 Innovation Awards. Each submission represented a significant advancement in technology—and every competitor is worth noting—but only one could win in each category. At seven o'clock on Monday, May 13th, the 2019 Innovation Awards participants gathered at Le Siècle on the Promenade des Anglais to rub shoulders with some of the greatest industry innovators, enjoy drinks, dine on an amazing meal—and to find out who had won.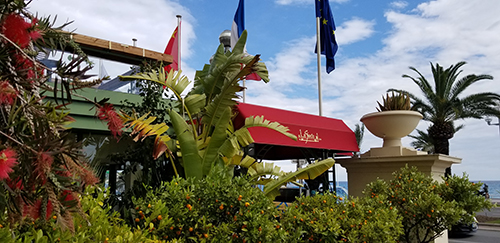 Figure 2 - Le Siècle in Nice, France
The 2019 Pipeline Innovation Awards Competition
The evening began with mingling and drinks, as the crowd gathered and settled in, and the talk and anticipation of the awards grew. Those who had worked painstakingly on their submissions for over a month—some entering as many as six different categories—began to show an air of relief now that the program was coming to fruition. The innovators discussed their submissions, and conversations around some of the most sophisticated technology in the world could be heard as the murmur amplified. Just as in the awards program itself, the application and evolution of such topics as artificial intelligence (AI), blockchain, advanced customer experience management, data aggregation and visualization, operational and business support systems, and virtual and cloud network technologies wove their way through the conversation. Everyone took their seats as the four-course meal service began, anxiously awaiting the results.