By: Scott St. John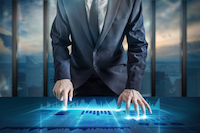 Big Data, BI, AI. These buzzwords seem to have been circulating in the industry for years now. They have been used as the battle cries for look-at-me technology companies who want to always appear on the edge of innovation. And, perhaps rightfully so. With the success of so many companies relying on their ability to leverage data, those that have tangible solutions should beat the drum often—and loudly.
Recognizing it can be difficult to sift the hype from actual technical progress, it's important to note that the technology companies are typically the ones who lead the market in leveraging new technology. They come from a different culture, after all. Risk versus reward. Fail fast. It should come as no surprise that many technology companies are often the hotbeds of innovation who strive to incorporate the latest and greatest technology into their solutions, as fast as possible.
The culture of service providers is drastically different. For many of them, their culture stems from a risk-averse, government-regulated utility environment. Tack on decades, if not a century's-worth of mission-critical legacy systems, and you're getting warmer. From there, all you need to do is add the daily pressure of an onslaught of new market entrants, webscale competitors breathing down your neck, and massive market-share risk if you get it wrong. But, it's not all doom and gloom.
Some service providers are rising to the challenge. They are shifting their culture and technology to become innovative digital service providers. This digital-transformation journey varies from service provider to service provider. But for those leading the way, they are embracing new technologies—such as artificial intelligence (AI), network functions virtualization (NFV) and software-defined networking (SDN)—within their own networks and passing innovative solutions through to their customers. Some have created their own innovation labs to stay on the forefront of technology advancements. They also are taking the time to meticulously sift through the hype to find innovative third-party solutions and technology companies to help them accelerate their digital transformation. Unfortunately, there are very few service providers—such as AT&T—who fall into this category today.
"It's not an even dispersion," John Abraham, a leading analyst at Analysys Mason, told Pipeline. "We have very few operators in the True Believer category (as it relates to digital transformation), and AT&T is one of them. Instead, we see the majority of service providers between the Hybrid and Skeptics category."
Analysys Mason has been tracking service provider transformation globally with its Digital Experience Index (DXi), or "dixie" for short. Looking at several key factors, Analysys Mason has grouped operators into three categories: Skeptics, Hybrid, and True Believers. Skeptics are those that are reluctant to transform, True Believers are fully embracing transformation, and Hybrids fall somewhere in between.
With the vast majority of service providers being either reluctant to change or somewhat open to the idea, and the vast majority of vendors touting the latest and greatest technology, it's no wonder that a rift exists between the two communities that can best help each other. But the one thing they seem to agree upon is the problems they are both trying to solve.
Mo' data, mo' problems
One of the biggest challenges facing service providers is contending with the seemingly insurmountable volume of data being generated by devices, networks, systems and users. Gen-E is a leading provider of solutions that help service providers and enterprises harness their data by simplifying data aggregation, visualization and management.
"There are massive amounts of data being generated daily. Service providers and enterprises can now better manage this data with new, innovative approaches," says Rhett Williams, President of EMEA at gen-E. "But there is a plethora of solutions, techniques, tools, and technology companies—all vying for a piece of their budget—claiming they can solve these problems. What service providers should be asking is 'what am I trying to achieve from a business-goal perspective,' and [the answer to] that has to drive the set of tools that are chosen to deploy the next generation of services over the next five years."