By: Thomas Rockmann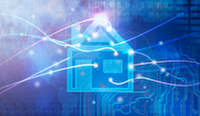 The cry of 'think big' has been a business credo for years, a mantra to every bootstrapping start-up and growing enterprise alike—live the dream, think big!
While the smart home market is growing fast—figures from analysts IDC predict sales of smart home devices will rise by 18.5 percent annually to reach a considerable 939.7 million devices by 2022—it has yet to reach capacity or peak 'bigness' by any measure. In many ways, the market is still in its early days. Opportunity abounds.
It is arguable that thinking big is in fact not the optimum approach for the smart home market, despite the considerable potential for growth for all players, including technology manufacturers, start-ups, telecoms operators and utility providers, to name a few. In fact, 'thinking small' holds more immediate value in a multitude of ways. Let's look at why.
Smaller technology
Most obviously, from a technology point of view, small is king, especially for consumers already facing homes packed with devices. Demand for physically scaled-down technology has already led to considerable integration in the smart home market: AI controls in TVs, routers with enhanced functionality (such as Deutsche Telekom's Speedport Smart router, which now controls Deutsche Telekom's end-customer offer Magenta SmartHome devices) or devices with built-in smart home hubs. As more and more devices become 'smart' and controllable, networking and marshalling opportunities will only increase—a trend that will gather momentum.
A problem in the connected space is functionality overload and, even worse, significant overlap in device performance and functionality. Even standout features such as voice control and AI are subject to this confusion—is it quicker to use a voice command for your smartphone or tablet or to shout across the room to ask a connected smart device to dim the lights?
Of course, the fact that there is such intense competition—and therefore this overlap—is an outgrowth of a lively market with a thriving ecosystem. And, yes, the market will shake down, incumbents will be chosen, and competition will move on into other niches. In the meantime, however, the clearest use cases and most uncluttered UX will have a significant advantage. This can be seen most clearly in the niches where we see strong success, such as smart security and comfort devices that focus on one outcome and don't overpromise. The value proposition must be single-stranded and simple to understand—and to use. It must provide a simple solution to a common issue.
To date, most consumers have stepped into the connected world through single propositions, and their most common frustrations are around fragmented technology that fails to meet a full value proposition. A clear example here is the plethora of security systems that deliver peace of mind simply, easily and quickly via a single device, such as a smart camera. These devices can be upgraded and networked with small sensors, which—for example—can detect whether a window is open or closed and such devices as smart doorbells for a complete home security system at whatever level of complexity the consumer requires or desires.