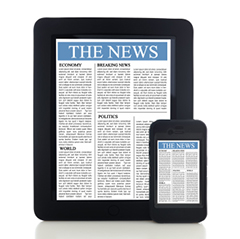 As the temperature begins to cool down, things are just heating up here at Pipeline. We've got exciting news from around the world focusing on this issue's theme of Network Evolution & Optimization. We're also covering stories on IoT, market activity, artificial intelligence, and more.
This month's top industry news stories are summarized below. To view current breaking news in real-time, visit Pipeline's News Center, follow Pipeline on social media, or subscribe to receive our weekly telecom industry news summary.
Network Evolution & Optimization News
In keeping with this issue's theme, our news begins with coverage of the telecom industry under great pressure to change and telcos doing their part to adapt their networks for turbulent times ahead. SOLiD and ASOCS formed a partnership to deliver a complete O-RAN-compliant solution for private 5G and industrial IoT networks. The joint solution enables rapid deployment of scalable private 5G campus networks with intelligent real-time positioning using the Citizens Broadband Radio Service spectrum.
Vodafone and Project Kuiper, Amazon's low Earth orbit satellite communications initiative, began a strategic collaboration through which Vodafone and Vodacom plan to use Project Kuiper's network to extend the reach of 4G/5G services to more of their customers in Europe and Africa. Deutsche Telekom launched its new "Campus Network Smart" solution. These private 5G networks, known as 5G campus networks, will be delivered in collaboration with Microsoft.
Ciena is working with Avaroa Cable Limited, BW Digital, and Vodafone Cook Islands to improve connectivity for students in the Cook Islands' 30 schools for the next three years. Nokia launched the Enterprise Edge Charging software solution to drive new monetization capabilities for smart cities, utilities, and railway verticals, as part of the company's ongoing strategic push into expanding its leadership position in the enterprise sector.
Kcell and Ericsson formed an extended partnership aimed at accelerating the widespread adoption and development of 5G technology and related services throughout Kazakhstan. Spirent released a software-based version of its O-DU wraparound test solution that is scalable to support continuous integration, continuous delivery, and continuous testing pipelines. The new solution stress-tests O-DU functionality and performance to help customers accelerate validation and enable faster deployment of O-RAN networks and technology. This industry-first O-RAN testing will eventually make more 5G use cases real, lowering costs, accelerating revenue, and improving CX in the process.
AI News
This month we have had writers reporting at DTW-Ignite, where one of the most talked about topics was generative AI and autonomous networks. In AI news this month, Netcracker Technology has expanded its partnership with Microsoft to support