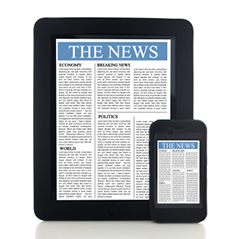 As we head into the final stretch of the year, survey and market report news is coming in fast and furious. Analysys Mason has released its annual ranking of telecom software and services providers by market share, putting Nokia on top. Dell'Oro charted growth in the broadband access sector, while Grid Raster and Juniper released new reports on automation, vehicle connectivity, mobile business messaging and more. The FCC advanced steps to establish disclosure requirements for TV and radio content sponsored by foreign governments. Worldwide 5G deployment and network evolution headlines continued to come in.
The top telecom industry news stories from the month are summarized below. To view all the news as it breaks, check out Pipeline's News Center or subscribe to receive our telecom industry news summary.
Network Evolution News
Network evolution news rolled in from around the globe. Nokia certainly had a busy month. Converge ICT, an Internet and digital services provider in the Philippines, will bring ultra-broadband services to the island of Mindanao by deploying Nokia's fiber-to-the-home (FTTH) solution. In the US, Nokia announced its selection by DISH Network to build a cloud-native 5G network. Nokia also announced that it will supply Nigerian mobile operator Tizeti with its Fastmile and Long Term Evolution (LTE) technology, enabling them to provide superior Internet services to over one million subscribers in Port Harcourt, Edo and Ogun in Nigeria. Nokia has also landed a deal to expand 4G with Azercell in Azerbaijan.
Telia Carrier announced the expansion of its North American network via an agreement with Equinix in Mexico, through deployments at Equinix International Business Exchange data centers servicing the Mexico City (Queretaro) and Monterrey metro areas.
Ericsson 5G Radio Access Network (RAN) and Core products and solutions are powering Orange Spain's 5G services in Madrid and Barcelona, the nation's two largest cities, following the communication service provider's September nationwide commercial 5G launch.
In South America, Speedcast International Limited has been awarded a project to provide high-speed Internet to 250 sites across rural Colombia. The government initiative will provide Colombians from Guajira to Amazonas with near-instant Internet access—even in regions where fiber, cable and LTE services are unavailable.
In South Korea, KT Corporation deployed the Infinera 7300 Series Multi-haul Transport Platform in its national backbone network to support a nationwide rollout of 5G services. Colocation Australia has tapped ADVA to optimize network capacity and enhance connectivity for its new national service.
5G News
Nokia announced that it is set to support Telefónica in its efforts to deploy 5G services to 75 percent of the Spanish population by the end of the year.
Ericsson, Qualcomm Technologies, Inc. and U.S. Cellular announced that the companies have successfully achieved the first extended range 5G NR millimeter Wave (mmWave) data call in the U.S. on a commercial network.
ETSI has released its NFV and MEC 2020 Interoperability Report, which focused on containerized and 5G network services.
Leaderboard and Innovation News
In the U.S., Federal Communications Commission Chairman Ajit Pai shared with his colleagues a proposal to establish strong, clear disclosure requirements for broadcast television and radio content sponsored or provided by foreign governments.
Analysys Mason has released its annual market analysis and has ranked Nokia as the top telecom software and services provider by market share.
Increased use of smart mobile phones, surge in usage of smart wireless accessories, high-end technological advancements of OTGs and wireless attachment, and development in gaming accessories are the major factors propelling the growth of the global mobile phone accessories market, according to new findings by Allied Market Research.