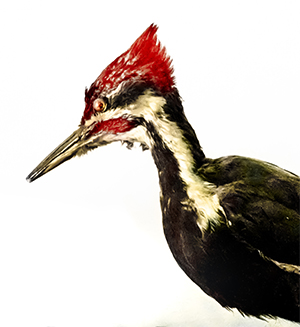 Last week, the U.S. Fish and Wildlife Service declared over 20 species extinct. They have ceased to be. They are no more. Among them the Ivory-billed Woodpecker with is regal, red crown, swaths of white, and of course, its name-sake ivory bill (image, right). All will be missed and it's a devastating loss for our planet. And we humans thought we had it bad.
But as the pandemic has evolved, so have we. We have adapted our behavior and our biology. For hundreds of millions of people, vaccines have evolved our immune system to provide protection for a novel virus for which we had no natural immunity. We've become accustomed to grabbing our masks, and an increased awareness of health, hygiene, and social distancing.
There are optimistic signs the Delta-variant surge is peaking. In addition to the continue rollout of vaccines and vaccine boosters, last week pharmaceutical company, Merck announced the Phase 3 results of its oral antiviral drug, Molnupiravir; which showed a 50 percent decrease in hospitalization and death when taken shortly after infection. This is a game changer. It's not over, but it's time to start putting the pandemic behind us, and get back to work.
Networks have supported the world through the pandemic, and are continuing to support the evolution of our globally-connected society in ways that were recently thought to be science fiction. As we continue to evolve, we can build upon this progress and collective industry innovation. Which is one of the reasons this issue of Pipeline is so important.

In this issue of Pipeline, Gilat Satellite Networks reveals the secret to making smart agriculture a reality. ZenFi Networks shows us how we can bridge the digital divide with 5G Access. The Next Generation Mobile Networks (NGMN) Alliance explore three fundamental drivers of 6G. Opengear examines seven emerging trends for network resiliency and Parallel Wireless reveals The Power of Automation in Open RAN Networks. In a forward-looking piece on network evolution, ADVA invites you to expand network evolution by incorporating best practices from Amazon and Tesla. Shirley Bloomfield of the NTCA-The Rural Broadband Association explains why The Future is built on fiber; and BearingPoint//Beyond shares findings from a recent survey where telcos are missing out on 5G enterprise opportunities. American Tower looks at network evolution with expectations at the edge; Seaborn Networks examines the advantages for service providers in dicing optical spectrum in Subsea Fiber Networks. All this plus the latest industry news and more.
We hope you enjoy this and every issue of Pipeline,

Scott St. John
Managing Editor
Pipeline
Follow on Twitter | Follow on LinkedIn | Follow Pipeline