By: Eugina Jordan

The telecom industry is going through a dramatic change that can only be compared to the change that data centers went through in the 2000s, all driven by Moore's Law. Internet of Things (IoT), digital health, e-learning, e-banking, artificial intelligence (AI), and Industry 4.0 are just a few of the many applications that are driving mobile traffic. Mobile network operators (MNOs) across the globe are presented with new revenue opportunities and must scale their networks to keep up with this demand.
Open RAN is the movement in wireless telecommunications to disaggregate hardware and software, and to open interfaces and reduce costs. With Open RAN and the virtualization it brings, operators are enabled to run software-based network functions on standard commercial-off-the-shelf (COTS) servers. With non-proprietary, open interfaces, MNOs can use one supplier's radios with another's processors—something previously not possible.

Open RAN follows the enterprise disaggregation path as seen with data centers. Once hardware and software were disaggregated in the enterprise sector in the 2000s, two similar challenges needed to be addressed:
1. How to Integrate software and hardware from different vendors.
2. How to automate the upgrades to that software.
This is where cloudification, ZTP (zero-touch provisioning), AI (artificial intelligence), and ML (machine learning) coupled with analytics come in to enable automation in Open RAN. Today these elements are becoming increasingly important to mobile operators. See Figure 1 below.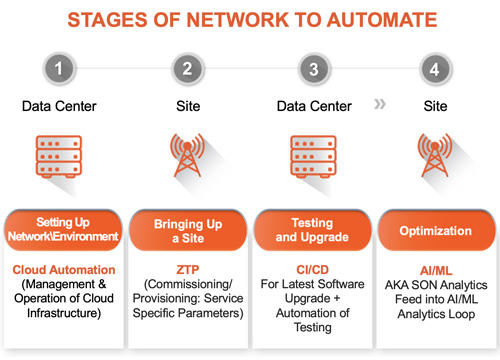 Figure 1: Stages of network automation
click to enlarge

Stages of the network to automate

Automation is enabled by four capabilities across all the stages of network deployment. Automation tools include ZTP, CI/CD, AI/ML and analytics. Automation is a key enabler for software-based cloud-native networks. Updates are deployed