By: Livia Rosu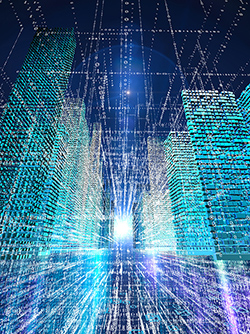 The Industrial Internet of Things (IIoT) and smart cities are already transforming the way we live and work, offering more efficient, sustainable, and connected environments. These systems rely on quality and reliable data communication, without which they simply cannot function.
This is where gigabit home networking (G.hn) technology comes in—G.hn is a global telecommunications standardization sector (ITU-T) standard for wired connectivity that provides high-speed data transmission over any existing wiring, including powerlines, coaxial cables, and telephone wires. This means that IIoT and smart cities can take advantage of existing infrastructure to transmit data, while delivering a cost-effective, secure, and reliable solution to the data communication challenges that operators face.
Both IIoT and smart city applications rely on the collection, analysis, and use of large amounts of data, and this means the communication networks must be robust and reliable to function effectively. Without these networks, the data generated by the devices and machines cannot be collected, analyzed, and used to drive improvements.
The growing technology of choice
G.hn offers not only a solution to overcome the challenges of digitalization, but also eases and accelerates the digital transition by filling the gap between technologies, extending the connectivity of previously installed technologies. Thanks to its ability to connect devices and operate efficiently with multiple types of networks over any wire (such as coax, phone lines, powerlines, and optical fiber) it is not only a fast alternative but also a reliable backbone for other technologies and networks.
This aspect of interoperability with other devices already on the market is fundamental for any technology to reach its full potential. HomeGrid Forum made significant headway in validating the interoperability of G.hn systems with certification programs for a variety of applications and markets, ensuring an ecosystem of highly performant, standard-compliant, and interoperable products ready for accelerated service deployments.
This is why G.hn is a key player in the fully digitalized world, providing the high-speed, reliable, and cost-effective connectivity needed to support the growth of IIoT and smart cities. As the market for IIoT continues to grow, we can expect to see even greater adoption of G.hn in the years to come.
The G.hn standard is constantly being maintained by ITU, with periodic updates to address the increasing bandwidth requirements from the industry. G.hn devices currently support up to 2 gigabit per second (Gbps) speeds and ITU is already working on a new amendment of the standard that is delivering data rates up to 10 Gbps, including full-duplex support.
New use cases for G.hn
While G.hn use cases started with purely home networking and smart-grid services, the evolution of IoT systems—requiring network-enabled devices of all sorts to intercommunicate reliably—has driven the need for a robust backbone that can support all networked devices reliably and for a standard that can govern interoperability for industrial applications. G.hn can utilize the existing cables in industrial environments to reliably deliver high-speed, multigigabit data to Local Area Networks