With continuous effort and innovations from standards organizations, 5G technologies are making 5G private networks more reliable and secure.
A PNI-NPN model can follow the SNPN design to meet latency and user plane privacy when deployed, offering a simplified approach and lower maintenance costs for enterprises. Based on the service level agreement, multiple models can be considered:
Shared RAN/Shared core: CBRS or NR-U in association with an MNO's mmWave/FDD spectrum in premises with private user plane (UPF) for enterprises (like LADN design). This model provides the benefits of user traffic privacy, extended coverage, and a massive capacity-centric approach.
Private RAN with shared core: NR-U deployed and managed by enterprises but shares an MNO's 5G core for both control and user plane. The benefit of this model for enterprises is a low-cost RAN with NR-U only and extended mobility support. However, there is a trade-off in user data and traffic privacy. An MNO benefits from extended indoor coverage for its subscribers.
Private RAN/Private core with limited interface to an MNO's core: Enterprises own a local RAN in unlicensed spectrum, leased spectrum or CBRS spectrum with a private 5G core as the primary core, but they are connected to an MNO's core to support mobility. This model delivers added benefits for enterprises in terms of traffic privacy except when a user goes onto the MNO's network. It also reduces 5GC network components in premises, as the rest can be leveraged from the MNO.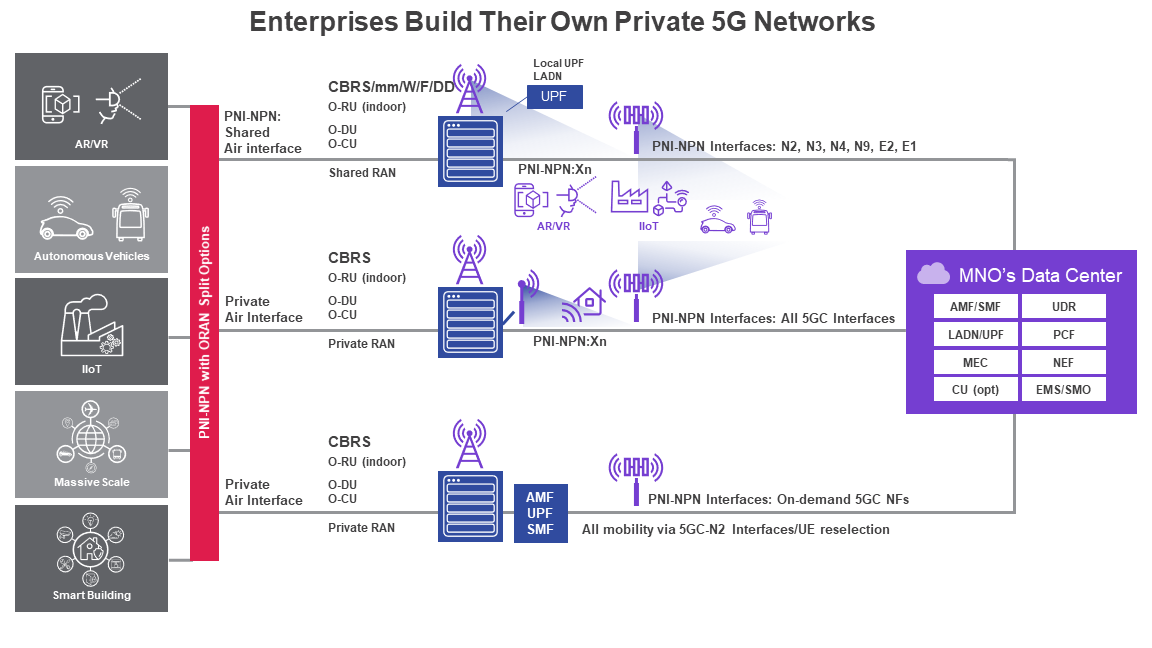 Figure 5: PNI-NPN deployment models
click to enlarge

The Private 5G Opportunity
Private 5G in both SNPN and PNI-NPN modes opens a number of opportunities, given the range of diverse 5G use cases. Enterprises prefer to have a competitive and "business-wise" scalable 5G service deployment with low TCO, new traffic models (UL/DL traffic ratio), a high degree of automation, self-healing and optimized network, which reduces their network maintenance costs. Open RAN solutions, along with 3GPP combinations, bring full openness and a path for enterprises to ease into multi-vendor IoT platforms. Open RAN with open API supports artificial intelligence and machine learning through the implementation of a RAN intelligent controller (RIC). This further enables simplification of operation and low-cost maintenance, allowing MNOs the ability to increase their focus on the development and delivery of new connectivity services for new market segments. The inclusion of private or public cloud infrastructure adds more centralization gain but it has its own trade-offs and costs to bear.
With continuous effort and innovations from standards organizations including 3GPP, ETSI, GSMA, the NGMN Alliance, the Small Cell Forum (SCF), and the Open RAN community, 5G technologies are making 5G private networks more reliable and secure. Standards are also easing the interoperability challenges and increasing the availability of high-end quality of services even for high data capacity-centric applications like augmented and virtual reality and other latency-sensitive applications. By carefully considering which SNPN or PNI-NPN deployment model best fits their business needs, enterprises can begin to implement private networks that are not only more feasible, but ultimately more efficient and cost-effective.