On CSPs' journey toward becoming digital service providers, no-code orchestrators play a key role in creating a more efficient digital operation.
ability to provision and activate a service across multiple silos of network elements within a CSP (or cross-CSP) to create an end-to-end service. Future networks will be governed by autonomous processes that allow the allocation and release of resources. Automation and orchestration will help to drastically reduce errors resulting from manual tasks.
Meanwhile, the concept of zero-touch provisioning has also taken hold: no form of manual intervention is necessary to deploy new equipment, either on the network side or at the customer's premise.
These concepts directly impact various business KPIs, including operational excellence, time to market, and OPEX reduction. The networks of the future are no longer static, rigid systems. Instead, they are software-driven and will be as flexible as the business requires.
No-code orchestration: expanding the possibilities
A no-code cloud-native provisioning and orchestration solution is designed to accelerate CSPs' transformational goals in building future-proof networks. Whether they need to deploy SD-WAN/SASE, GPON, 5G, Remote PHY, or other technologies, it stands ready to support them with multiple use cases and deployment scenarios. It is designed to allow CSPs to automate service lifecycle management without investing in time-consuming and budget-heavy projects.
From a differentiation standpoint, a no-code orchestrator provides a graphical component, a visual tool that is very simple and allows the product and operations teams to design new provisioning processes and product integrations quickly. This agility is key because it is one of the characteristics that define a DSP.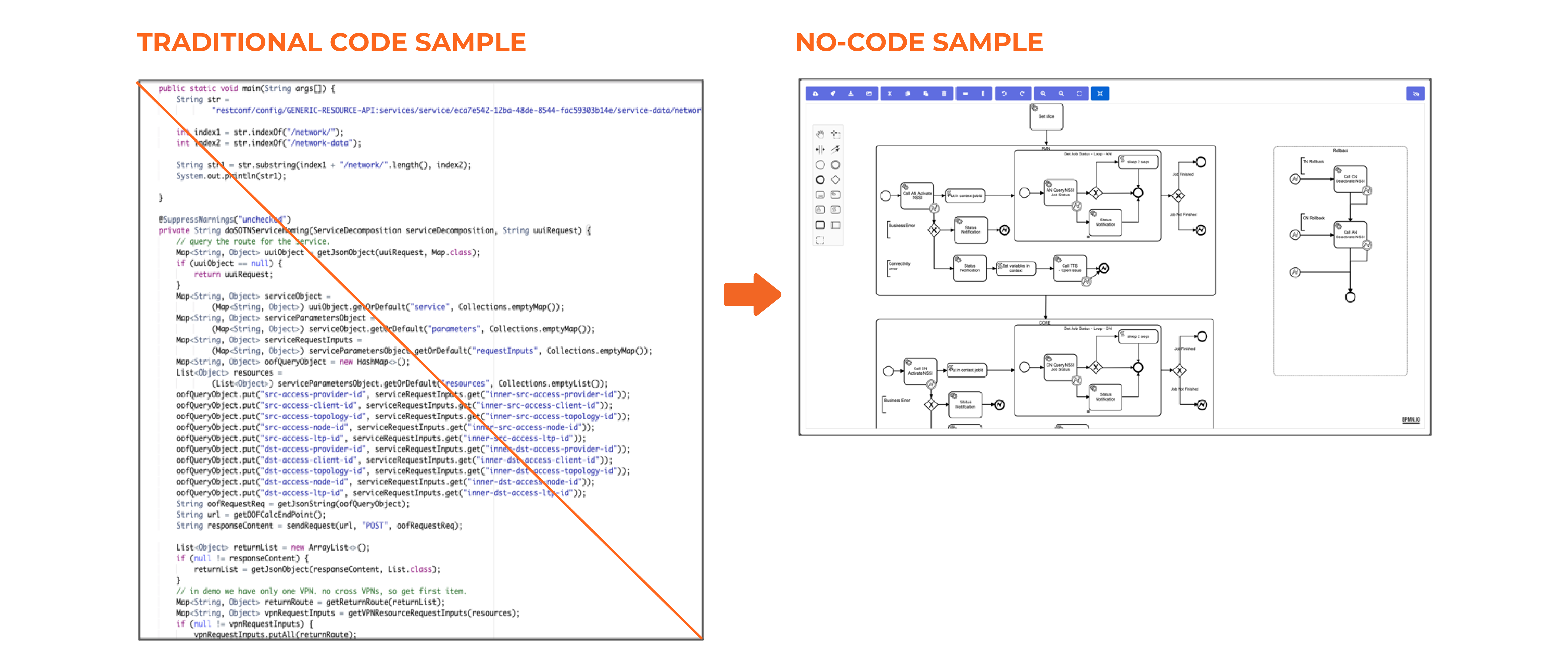 Figure 1: No-code solution
click to enlarge
Figure 1 (above) illustrates a no-code solution. On the left is a classic image of any code. In the "classic" BSS/OSS environment, you must have people with advanced software development capabilities deeply involved in all facets of the system. When making changes to a service, you have a typically long process to rewrite or add code to an already complex system, which adds cost and lengthens time to market. On the right is an image of a flow developed on a no-code orchestrator. On no-code orchestrators, the development process is significantly simplified and more agile. Primarily a visual tool, the creation of routines or flows can be carried out by network engineers (not necessarily developers), and the "development" process is carried out mainly by "drag and drops" and connecting flow elements to accomplish the provisioning and orchestration tasks to launch a service.
Onto the digital transformation path
On CSPs' journey toward becoming digital service providers, no-code orchestrators play a key role in developing and deploying new (and changing) digital services quickly, creating a more efficient digital operation.