to 20 percent of the combined CAPEX and site OPEX. In addition, there are few data points at this juncture suggesting that the 7.2x radio BOM will be smaller than the proprietary BOM with similar functional splits. Savings with the O-RAN equipment are of course possible (Rakuten estimates cheaper O-RAN HW and integrated antenna and radios can cut the radio unit (RU) capex by about 4x), but this will likely be more driven by margin reductions than BOM savings.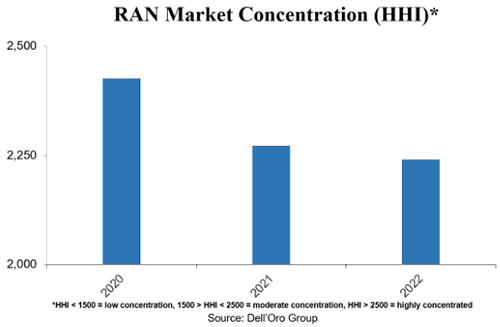 Figure 3: Market concentration
Click to enlarge
Same with the baseband, the direct cost synergies with vRAN remain negligible. And if anything, our assessment is that the combined hardware plus software baseband costs are still more favorable with purpose-built RAN.
But there are significant cost savings to be had beyond the O-RAN radio and baseband equipment. Rakuten for example, estimates its Open Cloud RAN implementation will eventually reduce the overall total cost of ownership (TCO) by 30 to 40 percent relative to traditional architectures. Mavenir's TCO calculations are in line with that of Rakuten. Dish also believes its cloud-native architecture and build-out strategy will produce cost advantages relative to the incumbents utilizing traditional architectures. Granted, not having to support legacy technologies is a major factor, but operators that incorporate automation throughout their networks can also benefit from lower rollout, site access, network management, and field maintenance costs. As Rakuten points out, its engineer-to-subscriber ratio is 1:20 K instead of one per thousand typical in legacy networks.
Since it is difficult to find chief financial officers (CFOs) that want to pass up 40 percent CAPEX and OPEX savings, it is worth pointing out that we don't have as much data about the TCO comparisons between Open RAN and proprietary RAN in brownfield settings. And even though incumbent RAN suppliers believe there can be synergies with vRAN and Cloud RAN, they remain somewhat skeptical that Open RAN can deliver any material equipment cost savings.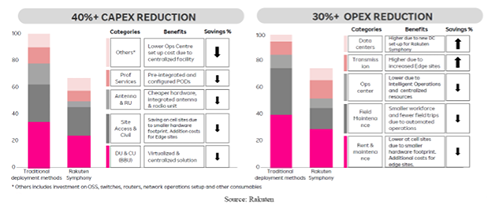 Figure 4: Savings Reductions
Click to enlarge

In summary, the "reshaping" of the RAN has come a long way in just a few years, underpinned by early adopters embracing the Open RAN and vRAN movements. Meanwhile, there is more uncertainty when it comes to the early majority brownfield operator and the implications for the broader RAN market concentration depending on the type of Open RAN operators deploy. In other words, the movement and HHI index is trending in the right direction, but it is still early days in this journey.