By: Becky Bracken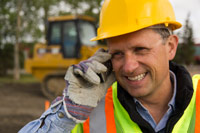 Nothing annoys a customer more than having to sit and wait for hours for a technician to arrive for a service call. The four-hour time windows, missed work, cancelled appointments and no-shows are enough to drive a subscriber right into the arms of your competition. Today's mobile workforce management solutions can fix the age-old problem of customers feeling like they're being held hostage by a technician's schedule. Far from the days of a dispatcher sitting in front of a push-pin-dotted map, today's slick mobile workforce management solutions can make even the most complex service organization hum with efficiency, keep customers happier, and leverage improved customer service as a competitive differentiator.
ViryaNet is a mobile workforce management solutions provider with an eye toward improving the efficiency and quality of delivering and maintaining communications services. In order to compete and keep customers, telecommunications services need to be reliable, and skilled technicians traveling with expensive equipment must be managed, maneuvered and deployed with surgical skill. The key: a flexible mobile workforce management system smart enough to manage competing priorities across many platforms and business units. A mobile workforce management solution built to meet the needs of many, often competing, important business objectives.
It's More Than Drive Time
Every communications service provider (CSP) has a different view of customer service, and that's reflected in how truck rolls are deployed. One CSP might value making appointments with customers with small wait times, others might value sending out the same technician each time a particular customer has an issue. With gas prices spiking worldwide, drive time has widely become a primary focus for driving operational efficiency. Nevertheless, leading CSPs are doing more by optimizing several goals together and even carefully balancing those business objectives when those are in conflict, according to Aviram Hinenzon, vice president of marketing with ViryaNet.
"Everyone is sensitive to drive time," Hinenzon says. "When you automate scheduling, drive times can be reduced by 30 percent. You can schedule more calls and reduce travel time all while balancing how much you want to minimize travel time versus better service. You can do more and get more."
Naturally, any CSP of any size already has a mobile workforce management solution of some kind in place. But ViryaNet's solution is geared toward supporting conflicting objectives to help improve the service organization. Conflicting objectives are the inherent contradiction between customer-friendly planning goals like quality of service, the impact of a network failure or the risk of missing a commitment and resource efficiency planning goals like minimizing travel time or load balancing the work. ViryaNet's mobile workforce management solution provides a mechanism whereby a user can tell the algorithm how to prioritize goals and objectives.