By Wedge Greene and Barbara Lancaster
FMC – Is it schizophrenic?
Capital Expense constraints have forced service providers to be more deliberate in prioritizing their spending. This is a reality we have all come to know over the past few years. Today, there are two major, and separate, spending campaigns, building two coexisting, yet separate networks: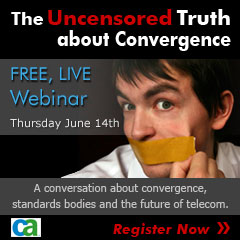 These investments are succeeding in providing more termination points with more transmission capacity. Yet these two networks compete – first for development capital, and once in place, for customer use. Nevertheless, all over the world, Fixed-Mobile Convergence (FMC) programs are grabbing the headlines, with Service Providers publicly announcing their intention to move in this direction. Can the build outs of today's isolated networks be integrated via some form of coherent planning? Are current product introduction programs sufficient to yield some synergy from these separate investments? Will the mergers and acquisitions that bring wired and wireless service providers together be the catalyst for successful convergence? Are we barking up a tree after the raccoon is gone?
Enter Alice 4 years ago - the cell phone as an access station in the house. This set the service provider community ablaze. Would it be successful? How can I duplicate this service in my country? This energized the fledgling FMC movement. Basically, the FMC vision is about each customer carrying one access device that does it all. It will: